25 Nov 2020
BLACK FRIDAY SALE: Huge Full-Stack Javascript Bundle of courses featuring Dave Ceddia, Swizec Teller, Ahmad Awais & more. Save $923.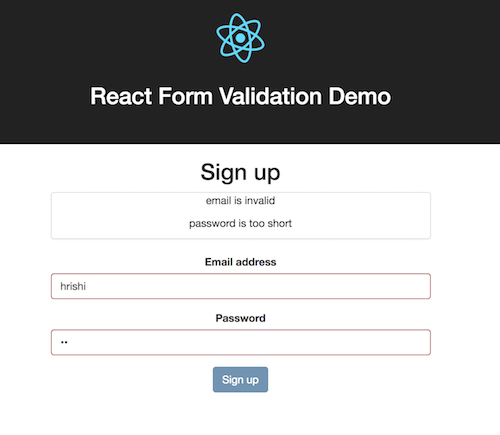 This is a step-by-step tutorial that will show you how to do basic form validation in React.
You can
see the full code on Github
and
see the app running on Heroku
.
We'll use
create-react-app
to get up and running quickly with a simple React app.
Install the package from npm and create a new app:
$ npm install -g create-react-app
$ create-react-app react-form-validation-demo
Now let's run the app:


$ cd react-form-validation-demo/
$ npm start
That opens http://localhost:3000/ where our new app is running.