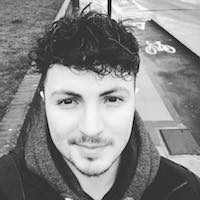 Tolga Cura
I teach Vue.js and have extensive experience in a range of web technologies.
About
Tolga Cura is a senior developer with experience in a range of technologies including Vue.js, React.js, Angular, NodeJS, Express, Microservices and more.
He works as a Developer Team Lead at JRNI, leading a team that delivers Enterprise SaaS solutions to clients within the finance and retail sector. Tolga has worked on delivering large software projects for organisations including Morgan Stanley, US Bank, John Lewis, Selfridges, Adidas, Lego, Cisco, Three, Westfield and many more.
Tolga has a degree in Mathematics and Computing. Prior to his career in programming he taught GCSE level mathematics to kids aged 5-16.